McIntosh ML1C
12", 8", 1.5", 2" Walnut Cab
Original List Price: 798.00


---
Grade: B1
B1: 399.00
Physical: Some light scratches - Excellent Condition
Electrical: Meets or exceeds original specs, all functions operate
Comments:Sell with 879. Circa 1972

---

Grade: B?
B?: 299.00
Physical: Some light scratches - Excellent Condition
Electrical: Not graded AS IS
Comments:Single Speaker.

---

Grade: C?
C?: 299.00
Physical: Some scratches or nicks, light oxidation - Good Condition
Electrical: Not graded AS IS
Comments:

---

Grade: D9
D9: 99.00

Comments:sell with BL8312. Cabinet only, no drivers.

---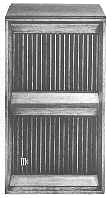 File Photo for Representation of item. May not be the actual item offered for sale.


Classic McIntosh Speakers Contemporary Style Walnut Finish
4 way: 12, 8, 1.5 2.25 inch drivers.

Shipping weight: 85 lbs.

Related Categories: Speaker Cable Speaker Stands


Feedback: I recently ordered a pair of McIntosh ML-1Cs and a MQ-101 from your company. Both were listed as B1 condition. Andy was an absolute pleasure to talk to. I had more than a few questions/concerns and he was able to satisfy and answer all of them very professionally. He gave me a great price and and assured their safe arrival.... To say the gear was packed well is an understatement. Everything arrived in perfect order and all were as described by Mr Butt....I would even say in better condition than I expected. The new set up sounds amazing. The work Andy did on the conditioning of these gems is above reproach. I have dealt with Andy in all of my purchases from Audio Classics and each time I have come away feeling like a respected and well treated customer. You folks at AudioClassics are top notch and so is the gear you sell. It's obvious much time and care is taken to ensure a quality product. Buying used gear is always a little unsettling because you're never sure you did the right thing until you have it in your home. Thank you to Andy and AudioClassics for a great buying experience and taking the guess work out of wondering if you are going to be getting quality gear. Best regards. B.B., VA
... last week I had an opportunity to purchase a pair of McIntosh Stereo Speakers from your fine Company When I called, I was very fortunate to have one of your outstanding Customer Service Representatives by the name of Andy Butt. Andy ... advised me he had a pair of ML1C, completely reconditioned, .... in excellent condition. ... I can not place in words, how pleased and satisfied I am with my first purchase of a stereo component from your great company! I was concerned about the shipping and handling, but they arrived ... in excellent condition, the packing was done in a excellent way, by truly a professional person, I truly thought they were brand new! Andy, did an excellent job in the conditioning of these beautiful speakers!! ... Andy, is a true Professional in every way that represents what a Customer Service Representative should be. His excellence, and superior performance and his commitment to your outstanding Company, and along with his commitment, to be honest and sincere desire, to help me with my questions and final decision to make my purchase, really impressed me, as this was my first purchase from Audio Classics, and yes, I was a little cautious, as this was a substantial purchase for my first time. ...his representation of your Company, sets the hi Standards, that other companies can only hope to achieve! ... Be rest assured, I'll do my part in the spreading of how great a company you are!! ...A very Satisfied and Pleased Customer!!C.B. VA
Just want you and the AC team how much I appreciate the work you did on my MC2100. It sounds absolutely fantastic. Deep quiet. Running it and the MC2100 I recently purchased from AC in mono mode. It is totally satisfying. System sounds so good now it's hard to imagine how much better it could sound with amps and other components upgraded. Alison Krauss "Forget About It" on Rounder Vinyl is now one of the best sounding performances I have ever heard. It was one of the first vinyls I played after hooking everything up. Sounded fabulous. ...... The sound stage explodes in both width and depth and gorgeous music literally leaps out of the system through the ML-1C speakers. Same impact when listening to H. V. Karajan's DG recordings of the Beethoven Symphonies. Can't get enough of it. B.J., TX
...just a note to let you know the job you guys did on those speakers was way beyond what i thought would happen...i'm a real nut...you know me...and i can tell, you guys have jobs doing what i do for fun (insert envy here). Now, for the first time, my speakers are louder than the voices in my head! The (McIntosh) ML1c's are museum quality ....thanks. D.O., GA.
Convenient payment plans: Audio Classics, Ltd. accepts Mastercard, VISA, Discover and American Express. For Your protection, we thoroughly investigate the validity of all credit card charges. To avoid delays, we prefer to send credit card orders to Your billing address only. You can pay by personal check, postal money order, certified check or bank cashier's check. Personal checks are subject to credit verification and can delay orders up to two weeks. COD orders must be paid by cash, bank check or money order and require a 10% deposit. The deposit can be paid by check or credit card.
Expert Packing: Your purchase is packed in the original shipping container whenever possible. Double boxing is used for extra protection on most items and Your shipment is insured. Large or heavy items can be crated at an additional charge. Audio Classics, Ltd. ships by your choice of UPS, FEDEX, US Mail, BAX, Roadway or Consolidated and you pay the shipping and handling charges.