McIntosh MR65B
FM Stereo Tube Tuner
Original List Price: 329.00


---
Grade: S1
S1: 2000.00
Special Item Call for Details
Electrical: Meets or exceeds original specs, all funtions operate
Comments:Performance Certified by Audio Classics, Ltd. RTM
Call for availability



---

Grade: C5
C5: 599.00
Physical: Some scratches or nicks, light oxidation - Good Condition
Electrical: Does not meet spec, some functions broken AS IS
Comments:

---

Grade: D1
D1: 499.00
Physical: Some dents or oxidation - Fair Condition
Electrical: Meets or exceeds original specs, all functions operate
Comments:

---

Grade: D2
D2: 499.00
Physical: Some dents or oxidation - Fair Condition
Electrical: Meets original specs, noisy worn controls
Comments:Rough but works.

---

Grade: D?
D?: 199.00
Physical: Some dents or oxidation - Fair Condition
Electrical: Not graded AS IS
Comments:Prototype, rusty.

---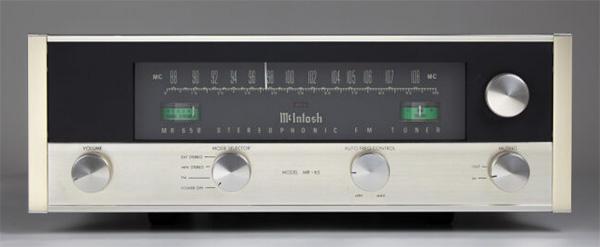 File Photo for Representation of item. May not be the actual item offered for sale.


Front Panel: Anodized gold and black aluminum panel. Illuminated dial. Illuminated signal strength meter. MPX indicator light. Illuminated tuning meter. Tuning control. Volume control. Mode selector switch: ext stereo, MPX stereo, FM, power off. Auto frequency control: min to max. Muting switch: in or out. Zero adjustment for signal strength and tuning meters behind end caps.
Back Panel: Scope output. Muting adjustment. Output adjustment. Audio outputs: 2.5V fixed and front panel controlled. Ext stereo input. Screw terminals for 300 or 75 ohm FM antenna and to tv set. Power cord. Fuse. Unswitched AC outlet. Panel light switch: bright or dim.
FM Section: Sensitivity 2.5uV. Response 20Hz-20kHz ± 0.5dB. Distortion less than 0.5%. Capture ratio 1.5dB. Image rejection better than 80dB. Three IF stages. Two limiters.
Tubes: 6DS4, 12AT7, (4)6AU6, 6SC6, 6BN8, (2)6BL8, 6BN4, 12AU7, 6U8, 12AU7. Solid state rectifier.
Production, 1,600 units made from June 1962 to 1964. SN: 100U1 to 359U3 and 100V1 to 101V8.
Shipping weight: 35 lbs.

Related Categories: Modafferi Modifications Antennas


Feedback: I have installed the MR65B on my second system ! I am listening to it right now, it works marvelously, his sonority is probably a little different from that of the previous MR67 I bought last year (I didnt compare them directly) but is still very pleasant, a superb collector, thank-you again for evrything ! E.B., France
Re: MR65B tuner: Absolutely Excellent. That is one sweet Classic tuner. Much thanks again for your honesty on that piece, and every other piece as well. J.P., MA P.S. That C22 reissue is just incredible. So So Quiet.
Convenient payment plans: Audio Classics, Ltd. accepts Mastercard, VISA, Discover and American Express. For Your protection, we thoroughly investigate the validity of all credit card charges. To avoid delays, we prefer to send credit card orders to Your billing address only. You can pay by personal check, postal money order, certified check or bank cashier's check. Personal checks are subject to credit verification and can delay orders up to two weeks. COD orders must be paid by cash, bank check or money order and require a 10% deposit. The deposit can be paid by check or credit card.
Expert Packing: Your purchase is packed in the original shipping container whenever possible. Double boxing is used for extra protection on most items and Your shipment is insured. Large or heavy items can be crated at an additional charge. Audio Classics, Ltd. ships by your choice of UPS, FEDEX, US Mail, BAX, Roadway or Consolidated and you pay the shipping and handling charges.