Grade: B1-1U154.RTM
B1-1U154.RTM: 1999.00

Comments:Modified by Modifferi.

---

Grade: B1
B1: 1999.00
Physical: Some light scratches - Excellent Condition
Electrical: Meets or exceeds original specs, all functions operate
Comments:Modified by Richard Modafferi.
Call for availability



---

Grade: C?
C?: 999.00
Physical: Some scratches or nicks, light oxidation - Good Condition
Electrical: Not graded AS IS
Comments:Needs alignment.

---

Grade: C5
C5: 999.00
Physical: Some scratches or nicks, light oxidation - Good Condition
Electrical: Does not meet spec, some functions broken AS IS
Comments:

---

Grade: C?46B74.1
C?46B74.1: 899.00

Comments:

---

Grade: C6
C6: 499.00
Physical: Some scratches or nicks, light oxidation - Good Condition
Electrical: Plugged in lights up, may work. AS IS
Comments:Powers up, no output.

---

Grade: D6
D6: 499.00
Physical: Some dents or oxidation - Fair Condition
Electrical: Plugged in lights up, may work. AS IS
Comments:

---

Grade: D?
D?: 499.00
Physical: Some dents or oxidation - Fair Condition
Electrical: Not graded AS IS
Comments:Some rust, needs work, bad dial glass.

---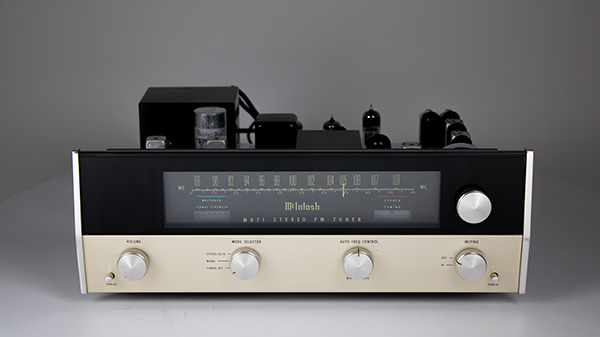 File Photo for Representation of item. May not be the actual item offered for sale.


Shipping weight: 40 lbs.

Related Categories: Modafferi Modifications Antennas


Feedback: I have received both the (MR71) tuner and C28 Preamplifier. ... The items arrived in very good condition and I am now enjoying the units. Very good job in packing and the items are like what was described in the sales brochure.You can be sure that the next time I go shopping for stereo equipment AudioClassics will be my first stop. Keep up the good work. I will definitely recommend your website to my other colleagues. K.Y., Canada
i bought a macintosh MR71 from audioclassics back in year 2008 in B1 grade... i have been listening to the MR71 since the day i received it from you. it has been trouble free for these years, not even a sneeze from the MR71 and i have been happy with it so far. D.W. Hong Kong
Thank you for the quick turn around and your personal attention in getting the tuner back to me in a timely manner. I had a chance to listen to the unit last night and this morning and it sounded terrific; as it had 15 years ago when Richard Modafferi did his magic on it then - with the Modafferi Mod. Stereo imaging is crisp and detailed. Everything sounded "just right". Please thank him for me and let him know how happy I am with the result. I want to thank Audio Classics and its staff in serving the audio community. Thank you for having the knowledge and know-how in repairing classic equipments (like the MR71) for audiophiles to enjoy. Please accept my sincere thanks to you and your staff for the attention to detail and for the services you provide. Happy listening and look forward to doing business with you and your company again. D.Y., NY
I have received my MR71, given it some burn it, as it has a lot of new parts, and now feel that it is fully burned in. My thoughts on the Unit follow: 1. Magnificent sound quality - it has returned to its Marantz 10b killer status. After break in, I came into my house and heard in the living room Bach's Unaccompanied Cello played by Starker. I have the original Mercury album by Starker and frequently play it. I immediately accused my wife of using my TT to play the Mercury Starker, as it sounded so close to the LP that I did not think that it could have been FM. I have asked my wife to stay away from the LP head end and was initially cross with her until pointed out to me that the TT was not operating, that the same Starker album was on FM. I was surprised as the Starker album sounded on FM so close to playing the original LP on a super tweaked TT/TA and cartridge that I could not hear anything that told me that it was FM only. I believe that this story says it all. 2. Stereo separation and selectivity - excellent. Please give my thanks to Richard for having done his magic again with my Unit. Each time he has it (three times now) it comes back better than ever. G.M., NY
You folks did a wonderful job restoring my MR-71 Tuner.. H.R.,CA
...how pleased I am with the work that was performed on my McIntosh MR71 Tuner by Richard Modafferi. The unit was packed as thought it came straight from McIntosh. I am pleased with the test results that Richard included with the tuner. Also the tuner was very clean when I received it. This is service of the highest order. Please give Richard Modafferi my sincere and warmest thanks for a job well done. P.M., GA
I'm very pleased with the results of our MR71 venture. The sound quality is truly amazing with good programming. Soft, lush top end & detailed throughout the entire range. I've never heard a tuner image like this before and it is truly exceptional in this regard. In comparison with my MR78 modified by RM, it seems to be an equal in sensitivity and general sound quality. The 78 sounds more truncated in the highs, but more extended. Also the special controls offered on the MR78 make selectivity better. I now own two of the finest sounding tuners that money can buy (yes I've heard the 10B & Sequerra) and can vigorously recommend both units to music lovers! Thanks for your advice on the RM modifications to these specimens. R.H., FL
I received the MR71 tuner... I checked it out visually and it's beautiful. ...Thanks you again for your true honesty in describing the piece. It's a true treasure. ... I'm am so very proud of EVERY single piece of my McIntosh collection thanks to your honesty and the whole Audio Classics experience. You are truly unmatched in your pursuit providing the enthusiast with the finest examples of classic audio gear with stellar sales, service and communication. J.P., MA
Richard Modafferi truly brought my MR71 much further than back to life: I have a loaned Marantz 10b in my house. It was comparing the two that caused me to send my MR71 back to Mr. Modafferi. THE NEWLY REPAIRED AND FURTHER MODIFIED MR71 OUTPERFORMS THE 10B IN THE FOLLOWING PARAMATERS: The 10B sounds distorted in the highest frequencies in comparison. The MR71 easily tunes and locks in stations that are challenges to the 10B. The overall presentation of the MR71 is just plain lovely. My best thanks and congratulations, Mr. Modafferi. You have done it again! In my humble opinion, the Modafferi MR71 is a masterpiece. GMC, NY
received the "exchanged" tuner last week and am very impressed. The lettering and faceplate, and of course the sound, are all superb, ... I also wish to extend my deep appreciation for your help in educating the seller of the original MR71 I purchased on the meaning of "MINT...I MEAN MINT!!!!" Thanks for you time and assistance, as always. I continue to recommend your organization to my friends and colleagues. Oh, and I should mention that your shipping methods are EXTRAORDINARY; I should have photographed it so others could see...I've never seen anything so well perfectly conceived and realized.Thanks, K.W.,FL
.....McIntosh MR71 tuner. I just wanted to drop you a note to say how grateful I am. Richard did an outstanding job calibrating, cleaning and adding a few gizmos. It plays better than ever! P.S., NY
Convenient payment plans: Audio Classics, Ltd. accepts Mastercard, VISA, Discover and American Express. For Your protection, we thoroughly investigate the validity of all credit card charges. To avoid delays, we prefer to send credit card orders to Your billing address only. You can pay by personal check, postal money order, certified check or bank cashier's check. Personal checks are subject to credit verification and can delay orders up to two weeks. COD orders must be paid by cash, bank check or money order and require a 10% deposit. The deposit can be paid by check or credit card.
Expert Packing: Your purchase is packed in the original shipping container whenever possible. Double boxing is used for extra protection on most items and Your shipment is insured. Large or heavy items can be crated at an additional charge. Audio Classics, Ltd. ships by your choice of UPS, FEDEX, US Mail, BAX, Roadway or Consolidated and you pay the shipping and handling charges.