McIntosh MR74
AM/FM Stereo Tuner
Original List Price: 849.00


---
Grade: D?
D?: 699.00
Physical: Some dents or oxidation - Fair Condition
Electrical: Not graded AS IS
Comments:Broken glass....

---

Grade: D1
D1: 699.00
Physical: Some dents or oxidation - Fair Condition
Electrical: Meets or exceeds original specs, all functions operate
Comments:Needs Glass. Performance Certified by Audio Classics, DEP.
Call for availability



---

Grade: C5
C5: 499.00
Physical: Some scratches or nicks, light oxidation - Good Condition
Electrical: Does not meet spec, some functions broken AS IS
Comments:missing dust cover.

---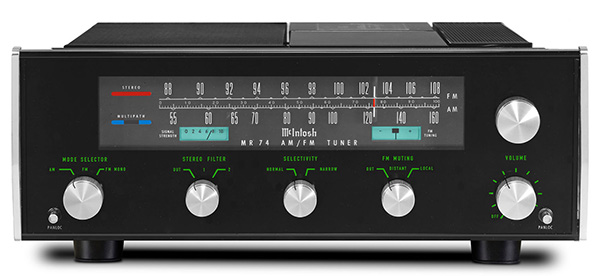 File Photo for Representation of item. May not be the actual item offered for sale.


Classic McIntosh analog AM - FM Stereo Tuner.
The MX113 has the same tuner section.

Shipping weight: 40 lbs.

Related Categories: Modafferi Modifications Antennas


Feedback: Thank you and your team for a GREAT repair and tune-up job on my MR74, Stromberg-Carlson tuner and MPX adapter. L.G., NY
you don't know how much happy i am. I enjoy so many years my pre-amplifier c-28 & amplifier 2105, with a mr-74 tuner recently. I like THE MCINTOSH SOUND, life-like !!!!! And the look, of course, especially the movement of needle in the blue eyes at my 2105. A MCINTOSH cd player for me is a Dream that comes true . At Shows in belgium ,i 've seen a McLaserdic playing a movie and recently i 've heard a Mc Music Server BUT NEVER NEVER heard a MC CD PLayer (including never seen one in the OFF position also in the store where i buy the book) !!!! As I could read on the web, K/S cables are amazing! I will discover these cables (not available in store outside usa/canada) who impressed so many HiFI brands! A VERY SPECIAL THANKS for your good advices, your help in this transaction, and other people working @audioclassics who can convert the CD player to work on 230 VAC giving so the chance to guy like me living outside USA to own MC products ! And of course your family who MADE HIFI HISTORY !!! V.M., Belgium
Re: MR74... I had a minor squabble about some detail I can't even remember that was partly my fault, and the Audioclassics folks went way overboard to make me happy. This outfit is expensive, but I think they do a fantastic job - it's one of those situations where you really do get what you pay for. D.H., CA.
Convenient payment plans: Audio Classics, Ltd. accepts Mastercard, VISA, Discover and American Express. For Your protection, we thoroughly investigate the validity of all credit card charges. To avoid delays, we prefer to send credit card orders to Your billing address only. You can pay by personal check, postal money order, certified check or bank cashier's check. Personal checks are subject to credit verification and can delay orders up to two weeks. COD orders must be paid by cash, bank check or money order and require a 10% deposit. The deposit can be paid by check or credit card.
Expert Packing: Your purchase is packed in the original shipping container whenever possible. Double boxing is used for extra protection on most items and Your shipment is insured. Large or heavy items can be crated at an additional charge. Audio Classics, Ltd. ships by your choice of UPS, FEDEX, US Mail, BAX, Roadway or Consolidated and you pay the shipping and handling charges.