Grade: PARTS
PARTS: 499.00

Comments:Parts Unit. Display bad, no output.

---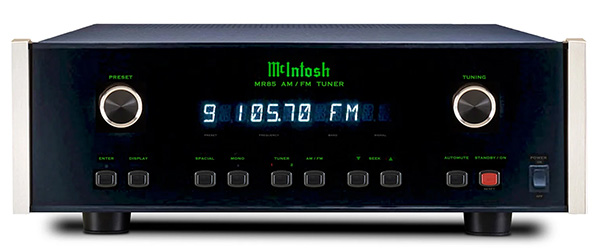 File photo for representation of item. May not be the actual item offered for sale.


High-Performance AM/FM Stereo Tuner.
Supports Up To 2 TM1 Tuner Modules.
Non-Volatile Memory for 9 FM and 9 AM Presets.
Custom Naming for Each Preset.
Auto-Memory of Preferred Settings.
Permanent Memory of All Settings.
Auto-Mute for Distance Tuning.
Remote Power Control In/Out. Fixed and Variable Outputs
McIntosh Spatial Sound Enhancement. Hi Sensitivity RF Amplifier
Phase Locked Loop FM Multiplex Decoder. Gold-Plated Output Jacks

Shipping weight: 50 lbs.

Related Categories: Modafferi Modifications Antennas


Feedback: Rarely have the opportunity recently to use the MR85, but when we do, it sounds wonderful. L.D., MO
...I want to thank you for the "great" time we had visiting... This really made our trip worthwhile. I could have shipped my MR85, etc., but visiting you & the gang was the BEST! I wish you folks were in Cleveland, Ohio. The McIntosh Tour was the icing on the cake.... Hope to see you again. and send you more folks to buy. J.L., OH
On vacation my wife and I could not hold back and pay a visit to Audio Classics. When we arrived at Audio Classics we were greeted by Ryan who even showed us around and readily answered all questions. We bought a MR 85 tuner to be sent to us to arrive upon our return. Back home the unit arrived on the time. Once unpacked, the tuner was well set up for the use in Europe (even with an European power cable) and in absolute mint condition, as promised. Integrated in the rack between its siblings from McIntosh, we now enjoy radio with the unique McIntosh quality and sound. Many thanks and greetings from Switzerland K.S.
First of all I would like to Thank you for everything, The MR85 has arrived in perfect condition and acceded all of my expectations! It was tuned exactly as I wanted and as you promised me. All the parts that I have ordered was packed carefully and came Intact. You are A great seller and a very honest and professional person, not to mention your curtsy and Patience . R.N., Israel
I had been considering McIntosh components to replace my aging Sansui equipment, and the folks at Audioclassics were absolutely outstanding. The (MA6300, MR85, MVP861) arrived in perfect condition, and their grading system is surprisingly conservative. The (MA6300, MR85, MVP861) condition and appearance was far better than the advertised "B1". The (MA6300, MR85, MVP861) performs flawlessly, and compared to anything I have owned for the last 40 years, is a far noticeable improvement. I would highly recommend Audioclassics as the source for McIntosh. M.M., FL
The MR85 is comfortably installed on his glass shelf. I put a Fanfare FM-2G antenna on the roof with direct link to the tuner, it works great! The use of MR85 is ultra simple and sound is remarkable. I was very lucky to have my first listen to a live concert in Marseille for the "5 continents" Jazz session .... amazing, extremely alive, very accurate, seeing musician walking along the scene and the feeling to be part of the public. Frankly the live and the MR85 is a pure crazy emotion! Final super happy. Thanks for your advice, looking forward to see you for other purchases. D.C., France
Well, last week I made good on my next McPurchase(s). I took a ride up to Audio Classics and came home with a new MCD 500 and a pre owned MR 85! Before I elaborate on the purchases, I have to thank Ryan for his hospitality. I got a tour of their great facility and had a nice lunch with the guys. I even got to meet a fellow Aker. If you are planning a tour of McIntosh, I highly reccommend a stop at Audio Classics it's a fun place with loads of Mac gear and great group of people. And I know I don't need to tell anybody here what a great guy Ryan is! Ryan did a wonderful job installing an LED kit in the MR 85, it looks absolutely incredible. While I am still playing with these units (swapping interconnects SACDs, CDs, etc) all I will say at this point is that the MCD 500 lives up to the great reviews it has gotten on this site and in the press. The sound is so smooth and silky and my whole system just seems so much more quiet. While I have upgraded the sound from my Tuner and CDs the biggest change has been what the MCD 500 DAC has done for my Squeezebox/Server. The sound was OK for background music but was always what I would describe as thin compared to the original CD. With the MCD 500 in the mix, I can't really decide if the CD or the Squeezebox is better. It seems to vary with the CD or even the track. My next purchase may now be a 1.5 TB hard drive! If you're wondering the rest of my two channel system consists of a C2300, MC 252 and a pair of B&W803D's. J.B., NY
Fantastic MR85 Led Kit! I want to report my total satisfaction with the MR85 LED KIT from AudioClassics; 1- Very easy to install. 2-the green color of the logo and the letterings matches perfectly with the 1000 Series Optic Fiber, I can't be happier. It's a must have for the MR85 owers. Once again, thank you very much, Mike from AC. J.A., France
WOW! I can hear a difference in sound quality.My Tannoy S-10's never sounded so good! The MA6500 & MR85 came to me as you stated A-1 cond. Thank you! .....Looking to hear from you soon,thank you again! I am a first time McIntosh owner! Thanks to Frank and Audio Classics! D.K., CA
.... both of us were very surprised by what we heard and the difference in sound quality that we were being treated to. Of course, I am sure that the C45 and the MCD201 also contributed to the improvement we heard. Still, I am very confident that a good portion of that is due to the 352. I am very surprised at how good the Proacs now sound. I was debating whether or not I would now also have to improve my speakers, but I don't think that that is necessary anymore. Interestingly enough, the improvement in sound quality of the MR85 really surprised me. Even the digital cable music that I pipe in through my sound system suddenly sounded much better. All this to say that while I expected an improvement, the improvement was more, a lot more than I had anticipated. I think my wife said it best, after spending all kinds of money shopping at the outlet mall and assessing whether or not we got our money's worth, listening to the amp she said, "now that's a worthy buy". So thank you for your advice and for your patience, it's very much appreciated. Please thank Brian for the demo he gave us with the Dream system. R.H., Canada
The MR 85 is exactly as you advertized - in mint condition in every way. I used it for the first time last night it works perfectly as expected. This unit pulled out stations that I had not been able to receive before. The sound quality is superb. Thanks - for your product advise, and knowledge is greatly appreciated. M.B., CT
the package arrived and everything was ok. The MR85 sounds great and the additional infrared is very helpfull for me. Your' far away in the US, dealing with you is like buying from next door neighbour. Thank you very much. W.L., Germany
As expected, the new McIntosh pieces are wonderful. I admit initially having low expectations for the (MR85) tuner but was quite surprised in the overall tonal quality improvement and reception ...almost CD quality sound and imaging using a cheap Radio Shack dipole antenna! The new MC352 far exceeded my expectations also. It literally transformed my whole system! I'm no longer needing to use the tone controls and the loudness switch to compensate for inadequate bass and excess treble. It gave dynamics to the system that just were not present with the MC162. And, the speakers are also transformed from merely good to now much better balanced, less excess treble and now a strong, full bass, with great imaging ..... I don't know if you've ever heard what a MC352 does for the SL-6 speakers, but I think that even you what be quite pleasantly surprised! Looking forward to my next McIntosh upgrade.W.R., NY

Convenient payment plans: Audio Classics, Ltd. accepts Mastercard, VISA, Discover and American Express. For Your protection, we thoroughly investigate the validity of all credit card charges. To avoid delays, we prefer to send credit card orders to Your billing address only. You can pay by personal check, postal money order, certified check or bank cashier's check. Personal checks are subject to credit verification and can delay orders up to two weeks. COD orders must be paid by cash, bank check or money order and require a 10% deposit. The deposit can be paid by check or credit card.

Expert Packing: Your purchase is packed in the original shipping container whenever possible. Double boxing is used for extra protection on most items and Your shipment is insured. Large or heavy items can be crated at an additional charge. Audio Classics, Ltd. ships by your choice of UPS, FEDEX, US Mail, BAX, Roadway or Consolidated and you pay the shipping and handling charges.