Grade: B?
B?: 1999.00 EA
Physical: Some light scratches - Excellent Condition
Electrical: Not graded AS IS
Comments:Won't boot, with box.

---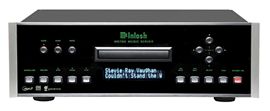 File Photo for Representation of item. May not be the actual item offered for sale.


Music Server/CD Player with CD-R/W Drive.
750 GB Internal Hard Drive. Integrated Music Guide.
Plays CD, CD-R, CD-RW, MP3, WMA and ACC Formats.
Lossless Audio Compression System (FLAC)
Multiple RS232 Data Ports. Multi Language Support.
Analog Recording Capabilities. Internet Radio Capable.
Fibre-Optic Illuminated Glass Front Panel.

Shipping weight: 46 lbs.

Related Categories: Compact Disks Interconnects Line Conditioners


Feedback: ... very much looking forward to having the MT10/Dynavector! Glad to hear from Tony - he is a wonderful representative for McIntosh. (Or as my wife says, "it turned out to be a very expensive tour!" but well worth it.) My wife has even told her lady friends how impressed she was with McIntosh and the wonder of old-fashioned American engineering and craftsmanship. She was equally impressed by all of you at Audio Classics as well and we both very much enjoyed our time spent with you. Now that I've just loaded my 350th CD into the MS750 (only a thousand to go!) we wonder how we every got along without that wonderful beast. .... thank you for everything and please give our best to the rest of the gang at AC! C.&J.G., IL
Convenient payment plans: Audio Classics, Ltd. accepts Mastercard, VISA, Discover and American Express. For Your protection, we thoroughly investigate the validity of all credit card charges. To avoid delays, we prefer to send credit card orders to Your billing address only. You can pay by personal check, postal money order, certified check or bank cashier's check. Personal checks are subject to credit verification and can delay orders up to two weeks. COD orders must be paid by cash, bank check or money order and require a 10% deposit. The deposit can be paid by check or credit card.
Expert Packing: Your purchase is packed in the original shipping container whenever possible. Double boxing is used for extra protection on most items and Your shipment is insured. Large or heavy items can be crated at an additional charge. Audio Classics, Ltd. ships by your choice of UPS, FEDEX, US Mail, BAX, Roadway or Consolidated and you pay the shipping and handling charges.