Wanted! McIntosh Turntable
MSRP: 12000.00


---
DEMO McIntosh available in store only
Pre-owned call for availability

---

NEW McIntosh available in store only
Pre-owned call for availability

---

Grade: B?
B?: Call us for availability
Physical: Some light scratches - Excellent Condition
Electrical: Not graded AS IS
Comments:



---

Grade: D?
D?: Call us for availability
Physical: Some dents or oxidation - Fair Condition
Electrical: Not graded AS IS
Comments:



---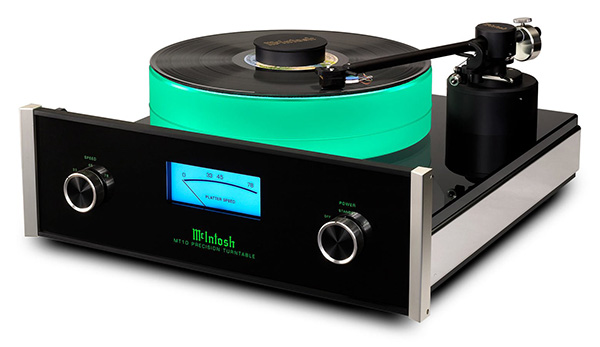 File photo for representation of item. May not be the actual item offered for sale.


Belt-Drive Turntable Dural Aluminum Tone Arm
Weight-Matched Moving Coil Cartridge Included
Precision DC Motor Magnetic Spindle Bearing
Strobe Speed Control Illuminated Speed Meter
Multi-Layered Damped Chassis

Shipping weight: 80 lbs.

Related Categories: Records Cartridges Interconnects Line Conditioners


Feedback: The MT-10 is beautiful, and after one tiny hitch, it was up and running. So far, it's like someone replaced my albums with copies that have more stuff on them.... The MCD301 is also wonderful... They are a perfect fit with the C48 and the MC352.... I can't thank you enough for the expert help that Mike provided me through all of this. I was told that to buy used McIntosh from anyone else was just too risky, and I believe that this is true. Thanks again…R.R., NC
Got the MT10 up and running this weekend with no problems. Great looking and fabulous sounding table. Thanks for performing the QC check on it prior to shipping. (BTW - since I did not want to use the supplied blue cloth dustcover and don't have room for a large cover like the Ginkko, I am using the JA Michell "Unicover". It is clear plastic and just sits on top of the platter covering it and the tonearm and fits the MT10 perfectly. I recommend it to you if you have MT10 clients with space constraints as I have.) ... Thanks for the wonderful system and service. C.G., IL
... very much looking forward to having the MT10/Dynavector! Glad to hear from Tony - he is a wonderful representative for McIntosh. (Or as my wife says, "it turned out to be a very expensive tour!" but well worth it.) My wife has even told her lady friends how impressed she was with McIntosh and the wonder of old-fashioned American engineering and craftsmanship. She was equally impressed by all of you at Audio Classics as well and we both very much enjoyed our time spent with you. Now that I've just loaded my 350th CD into the MS750 (only a thousand to go!) we wonder how we every got along without that wonderful beast. .... thank you for everything and please give our best to the rest of the gang at AC! C.&J.G., IL

Convenient payment plans: Audio Classics, Ltd. accepts Mastercard, VISA, Discover and American Express. For Your protection, we thoroughly investigate the validity of all credit card charges. To avoid delays, we prefer to send credit card orders to Your billing address only. You can pay by personal check, postal money order, certified check or bank cashier's check. Personal checks are subject to credit verification and can delay orders up to two weeks. COD orders must be paid by cash, bank check or money order and require a 10% deposit. The deposit can be paid by check or credit card.

Expert Packing: Your purchase is packed in the original shipping container whenever possible. Double boxing is used for extra protection on most items and Your shipment is insured. Large or heavy items can be crated at an additional charge. Audio Classics, Ltd. ships by your choice of UPS, FEDEX, US Mail, BAX, Roadway or Consolidated and you pay the shipping and handling charges.