McIntosh MX110
Tube Tuner Preamp
Original List Price: 399.00


---
Grade: B5
B5: 3499.00
Physical: Some light scratches - Excellent Condition
Electrical: Does not meet spec, some functions broken AS IS
Comments:with non original box.
Call for availability



---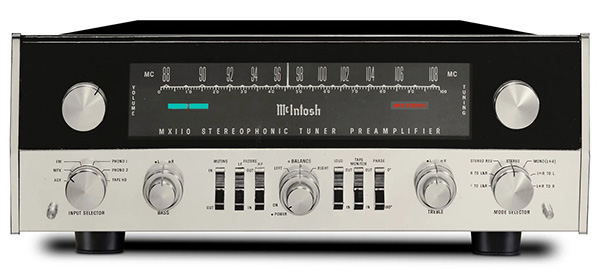 File Photo for Representation of item. May not be the actual item offered for sale.


Shipping weight: 40 lbs.

Related Categories: Interconnects Line Conditioners


Feedback: listened Sunday to some great...music Bach Handel et al - living room filled with magnificent sound - sound played by McIntosh MX110 tuner/preamp MC250 solid-state amplifier and KLH 5 bookshelf speakers- fabulous sound I bought the Mac stuff from you years ago - still playing flawlessly F.H.MD
The MX110 sounds great for a unit that is 50 years old. Your techs did a great job. I really liked the hand written notes from the tech. It adds a personnel touch that is lacking in todays world. ... Thanks again for a job well done. J.S., IN
I just was able to install my MX110 back into my office system. It sounds great. The sound and tuner function had definitely deteriorated, but it happened so slowly that it was hard to detect, except for how it sounds now. I actually listen much more in my office than I do in my large state of the art modern system. K.C.,CA
the Mcintosh C2200 is awesome..sounds great with the 275..the MX110..sweet..got them paired with Klipsch Reference..Thank you! You guys are the best! M.H., FL
This is my first MX110 / MC240 McIntosh combination - nothing short of amazed at how good the sound is. Smooth, but with no huge lose of detail, extended w/o any harshness on the top octaves, GREAT bass without being boomy. .... - between you and me - I think our industry has been walking backwards since point to point tube designs were abandoned for higher profit / shorter production time solid state designs. I REALLY am enjoying this combination. J.B., NY
My MC240 & Mx110 were stored away for several years because they did not sound right. Ryan Kilpatrick described the quality of ACL's repair service. The entire process went smoothly, just as he promised. My sincere thanks to Ryan and with much appreciation also to Richard Modafferi. Richard, you are an true artist in your profession. The system sounds awesome, great job!Your shipping Dept takes a lot of pride in their work too. Keep up the good work. C.V., N.H.
Good morning Ryan. I am happy to report that my MX 110 arrived in good condition. It sounds great, tunes well, and looks great. Also a very nice packing job! Thanks very much for a professional job! I appreciate..... W.M., PA
I received my MX-110 and turned it on immediately! To my surprise I now find at least thirty FM stations I never knew existed! It sounds great, now if I only had a Mc Amp! I started to place the report in my owners manual and a card fell out listing Audio Classics in Walton New York. It has Steve Rowell listed as Owner. Could it be that you are the same company and the unit was purchased in the early '80's from you? (Yes) Thanks for the work I know I'll enjoy it for many years. T.K.,TX
Just to let you know that MX 110 sounds very nice and seems to be a quite good match with my MC250. As the other time, buying from you means paying little bit more but receiving exactly what you payed for.ciao L.R. Italy
Convenient payment plans: Audio Classics, Ltd. accepts Mastercard, VISA, Discover and American Express. For Your protection, we thoroughly investigate the validity of all credit card charges. To avoid delays, we prefer to send credit card orders to Your billing address only. You can pay by personal check, postal money order, certified check or bank cashier's check. Personal checks are subject to credit verification and can delay orders up to two weeks. COD orders must be paid by cash, bank check or money order and require a 10% deposit. The deposit can be paid by check or credit card.
Expert Packing: Your purchase is packed in the original shipping container whenever possible. Double boxing is used for extra protection on most items and Your shipment is insured. Large or heavy items can be crated at an additional charge. Audio Classics, Ltd. ships by your choice of UPS, FEDEX, US Mail, BAX, Roadway or Consolidated and you pay the shipping and handling charges.