Grade: B?
B?: 299.00
Physical: Some light scratches - Excellent Condition
Electrical: Not graded AS IS
Comments:

---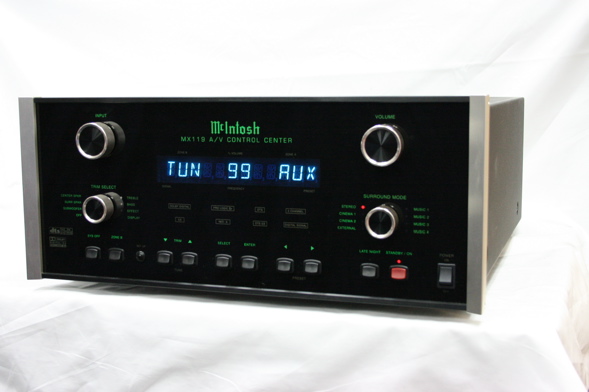 File Photo for Representation of item. May not be the actual item offered for sale.


Shipping weight: 50 lbs.

Related Categories: Interconnects Line Conditioners


Feedback: The MX119 is all hooked up and sounds and works great. Thanks for your help in making the selection of the MX 119 and getting the right cables from the source components. The system is logging a lot of hours. We always have something on when we are in the house. ( FM, CDs, or a movie ). The MAC history book by Ken Kessler really goes into detail from the beginning and must have taken hours and hours to gather all the info. It makes for good reading while listening to good sound on the MX119. Thanks so much for the gift of a copy of a well written history. I need to bring it along and get you and Steve to autograph it since you are both in the book. H.S., VA
Just want to let you know how much we appreciated your help and the time that you spent with us on our recent visit to your new location in Vestal. Everything about your operation is first class along with the service. I'm still in the process of installing the MX119 & the MCD7008.... Also many thanks for lunch and for setting up the tour of the McIntosh factory. (My wife) has been telling everyone about the tour and especially the demo home theater room. Again many thanks for the tour and the excellent service.You guys are Number One in Audio. H.S., VA
.... I bought my Mac MX-119 and MC-7106 amp from you! I am very pleased with my purchase. Thanks. J.C., CA
We received the MX119 last evening. The unit arrived in "Outstanding condition". I carefully unpacked and proceeded to inspect the unit. All I can say it was packed at factory specifications. I read the book and followed instructions for a proper set up. My wife said to me what was the big deal, that it looked almost like my old equipment. I hooked all amps and SACD player, adjusted all settings and fired it up. We played the Eagles DVD Live Concert in DTS. It blew my wife's socks away (mine too). It's been so long I have heard anything like this. All I can say is WOW! 1000W RMS at .0025% distortion is out of this world. The MC2300 amp and 4 Hafler amps rocked. I stayed up late last night and came to work kind of tired, but it's been an experience I just can't describe. I hope the neighbors won't call the cops this weekend!! Yeah... Thanks again for your business. Can't wait to go home and play the other albums in my collection. I'll let you know when I'll be ready to put aside the 6 channel amp and the DVD/SACD player from McIntosh. Have a great weekend and thanks again! J.C., TX
Convenient payment plans: Audio Classics, Ltd. accepts Mastercard, VISA, Discover and American Express. For Your protection, we thoroughly investigate the validity of all credit card charges. To avoid delays, we prefer to send credit card orders to Your billing address only. You can pay by personal check, postal money order, certified check or bank cashier's check. Personal checks are subject to credit verification and can delay orders up to two weeks. COD orders must be paid by cash, bank check or money order and require a 10% deposit. The deposit can be paid by check or credit card.
Expert Packing: Your purchase is packed in the original shipping container whenever possible. Double boxing is used for extra protection on most items and Your shipment is insured. Large or heavy items can be crated at an additional charge. Audio Classics, Ltd. ships by your choice of UPS, FEDEX, US Mail, BAX, Roadway or Consolidated and you pay the shipping and handling charges.