Grade: B1
B1: 1399.00 EA
Physical: Some light scratches - Excellent Condition
Electrical: Meets or exceeds original specs, all functions operate
Comments:with new glass, remote & manual.

---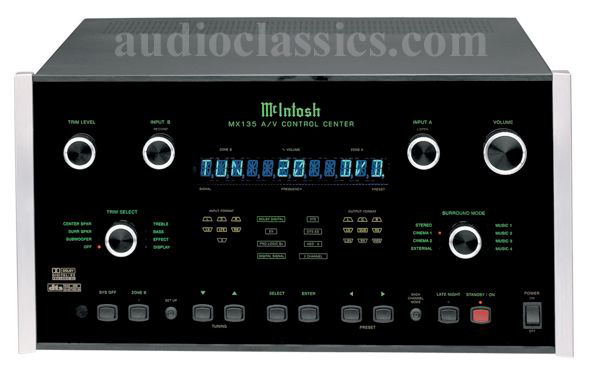 File Photo for Representation of item. May not be the actual item offered for sale.


2 Zone Controller, Video Transcoding, DTS ES & Neo:6,
Dolby Digital EX, DTS-ES, Prologic II. Accepts TM1
12 Analog inputs including high performance phono section.
11 Composite & S-Video inputs with up-conversion
2 sets of balanced inputs. Harmony event based learning remote.
8 balanced outputs for 7.1

Shipping weight: 60 lbs.

Related Categories: Interconnects Line Conditioners


Feedback: I am writing to let you know how pleased I am over the MX135 that I purchased from you January of this year. This will make six McIntosh units that I have purchased from Audio Classics over the last five years. I have two systems, one for Stereo and one for Home Theater, in separate rooms. All my experiences in dealing with the personnel, and in the quality of the firm's products have been high class. In this regard I want to thank you for the extra effort you built in to make me feel good about this recent transaction. I appreciated the exchange, and testing of a replacement unit, which is a truly wonderful addition to my Home Theater System. I.F., IN
Convenient payment plans: Audio Classics, Ltd. accepts Mastercard, VISA, Discover and American Express. For Your protection, we thoroughly investigate the validity of all credit card charges. To avoid delays, we prefer to send credit card orders to Your billing address only. You can pay by personal check, postal money order, certified check or bank cashier's check. Personal checks are subject to credit verification and can delay orders up to two weeks. COD orders must be paid by cash, bank check or money order and require a 10% deposit. The deposit can be paid by check or credit card.
Expert Packing: Your purchase is packed in the original shipping container whenever possible. Double boxing is used for extra protection on most items and Your shipment is insured. Large or heavy items can be crated at an additional charge. Audio Classics, Ltd. ships by your choice of UPS, FEDEX, US Mail, BAX, Roadway or Consolidated and you pay the shipping and handling charges.