Levinson NO.5105
Levinson Turntable
Original List Price: 6000.00


---
DEMO Levinson available in store only
---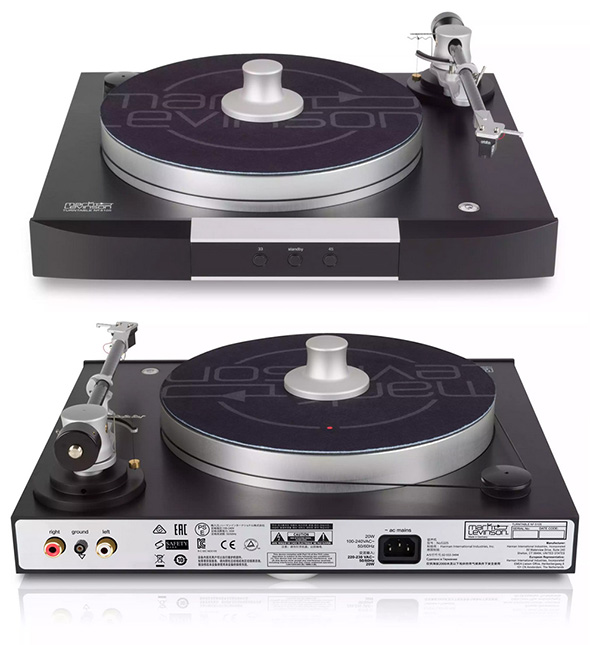 File photo for representation of item. May not be the actual item offered for sale.


Custom 10" Arm. Precision roller bearings, all directions.
Ultra-Precicion movement and damping.
Digitally controlled 12 Volt synchronous motor.
33/45 speeds. Global power supply.
Massive solid brushed aluminum plinth.
14 lb solid aluminum platter with resonance absorbing material
Adjustable isolated feet.
Glass/aluminum front panel with speed control.
Bubble level.

Shipping weight: 60 lbs.

Related Categories: Records Cartridges Interconnects Line Conditioners



Convenient payment plans: Audio Classics, Ltd. accepts Mastercard, VISA, Discover and American Express. For Your protection, we thoroughly investigate the validity of all credit card charges. To avoid delays, we prefer to send credit card orders to Your billing address only. You can pay by personal check, postal money order, certified check or bank cashier's check. Personal checks are subject to credit verification and can delay orders up to two weeks. COD orders must be paid by cash, bank check or money order and require a 10% deposit. The deposit can be paid by check or credit card.

Expert Packing: Your purchase is packed in the original shipping container whenever possible. Double boxing is used for extra protection on most items and Your shipment is insured. Large or heavy items can be crated at an additional charge. Audio Classics, Ltd. ships by your choice of UPS, FEDEX, US Mail, BAX, Roadway or Consolidated and you pay the shipping and handling charges.