McIntosh C2600
Remote Tube Preamp w DAC

---
NEW McIntosh available in store only
Pre-owned call for availability

---

Grade: B1
B1: Call for availability
Physical: Some light scratches - Excellent Condition
Electrical: Meets or exceeds original specs, all functions operate
Comments:



---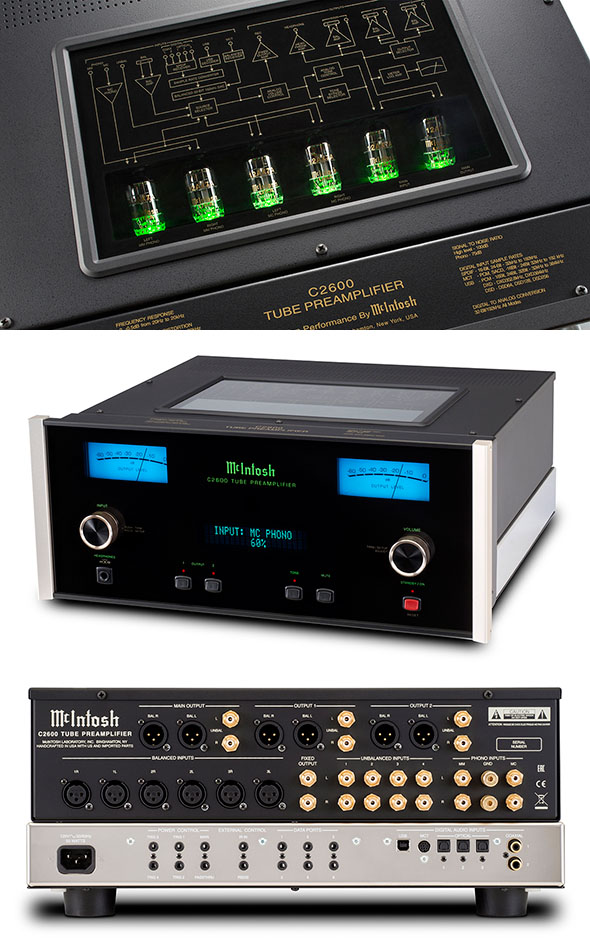 File photo for representation of item. May not be the actual item offered for sale.


Shipping weight: 50 lbs.

Related Categories: Interconnects Line Conditioners


Feedback: Sometimes I cant believe how lucky I am. ...I love my C2600 and my MC452 and I have you to thank for it all. ....I just wanted to end-game-land the proper preamp and amp for life and then take my time with the rest. So once again my deepest thanks for not putting me in the poorhouse on my purchases but it will take some time to regain money-steam to handle the speaker upgrade. I applaud your honesty and A business ethics and I hope all is well on your side of the country. I do my best to give you positive plugs out there on Facebook from time to time not that you need any. C.R. AZ
I wanted to let you know that I have never been more satisfied with a purchase than I am with the MC452 and C2600 you sold me. Im going to get years of enjoyment out of these 2 pieces. My JBL L150As are loosening up after having been restored so theyre sounding better every day. I was on the fence on the preamp but Im very happy I went the tube route. I havent found a recording yet that sounds harsh on the high end and I think the tubes are to thank for that. Hopefully we can sell a few more cars so I can upgrade the remaining pieces in the near future. Audio Classics has my business from here on out. Thanks for all the help. T.B. OK
The c2600 arrived safely last night already up and running it sounds and looks great. Thank you again for your counsel and incredible customer service. Ill be in touch when I get the itch to continue my audio journey. J.P. MO

Convenient payment plans: Audio Classics, Ltd. accepts Mastercard, VISA, Discover and American Express. For Your protection, we thoroughly investigate the validity of all credit card charges. To avoid delays, we prefer to send credit card orders to Your billing address only. You can pay by personal check, postal money order, certified check or bank cashier's check. Personal checks are subject to credit verification and can delay orders up to two weeks. COD orders must be paid by cash, bank check or money order and require a 10% deposit. The deposit can be paid by check or credit card.

Expert Packing: Your purchase is packed in the original shipping container whenever possible. Double boxing is used for extra protection on most items and Your shipment is insured. Large or heavy items can be crated at an additional charge. Audio Classics, Ltd. ships by your choice of UPS, FEDEX, US Mail, BAX, Roadway or Consolidated and you pay the shipping and handling charges.