McIntosh MR88
AM/FM/HD/XM Remote controlled tuner
Original List Price: 4500.00


---
Grade: B1
B1: 3995.00
Physical: Some light scratches - Excellent Condition
Electrical: Meets or exceeds original specs, all functions operate
Comments:with box, manual & remote.
Call for availability



---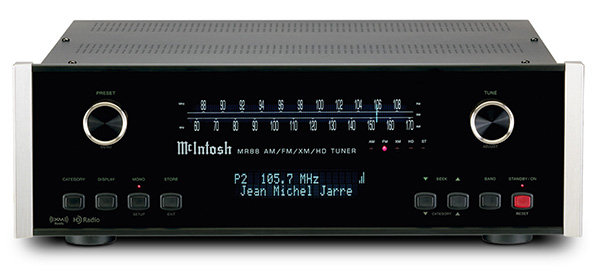 File photo for representation of item. May not be the actual item offered for sale.


AM/FM/HD Radio Tuner with Multi-Casting XM-ready
Illuminated Dial & 2-Line Multi-Function Fluorescent Display
Smooth-Acting, Weighted Tuning Mechanism Animated Dial Pointer
Dual-Differential Remote AM Antenna AM & FM Antenna Inputs
60 Station Presets (20 per band) XRL & RCA Analog Outputs
Coaxial and Optical Digital Audio Output

Shipping weight: 50 lbs.

Related Categories: Modafferi Modifications Antennas


Feedback: The Mr88 is amazing.I never thought FM could sound so good.I'm developing a real affection for Mac tuners. C.M. Canada
Like always, couldn't be happier with Audio Classics and the tuner. Milwaukee has a good number of HD radio stations, and the MR88 is picking up most of them without even properly setting up the antenna. J.S., WI
.....a good prescription for dealing with being home sick is to have lots of good music to listen to! The combination of the 803's and the 805's in my listening space are absolutely spectacular. They are a little power hungry but the 402 drives them just fine. My friend who works at the local retailer helped me set up everything is also quite envious of the MR88. He had never seen one except at Mac in-services, and the luck of the draw for us is that two of our favorite stations that account for 99% of our listening, have HD transmitters on a nearby mountain. BIG difference in fidelity over analog FM. The only downside is that there is a slight delay in the signal between the two formats so that having them on in other parts of the house with a traditional tuner can be a little annoying. Oh well small price for good listening. We still look forward to getting up there to visit and get a tour. Thanks so much for all of the time spent. I'm good to go for another 30! R.R., VA

Convenient payment plans: Audio Classics, Ltd. accepts Mastercard, VISA, Discover and American Express. For Your protection, we thoroughly investigate the validity of all credit card charges. To avoid delays, we prefer to send credit card orders to Your billing address only. You can pay by personal check, postal money order, certified check or bank cashier's check. Personal checks are subject to credit verification and can delay orders up to two weeks. COD orders must be paid by cash, bank check or money order and require a 10% deposit. The deposit can be paid by check or credit card.

Expert Packing: Your purchase is packed in the original shipping container whenever possible. Double boxing is used for extra protection on most items and Your shipment is insured. Large or heavy items can be crated at an additional charge. Audio Classics, Ltd. ships by your choice of UPS, FEDEX, US Mail, BAX, Roadway or Consolidated and you pay the shipping and handling charges.